VPN access is avaliable only by request for current employees. This allows you to access all on-campus resources, including network shares such as Departmental K:, Personal U:, etc. To request access, click here.
Open Control Panel->Network and Internet->Network and Share Center.Click Set up a new connection or network.

Select Connect to a workplace and click Next.

Select Use my internet connection (VPN).


In the Internet Address field, Type in the following:

virtualw.smumn.edu


Check the "Don't connect now; just set it up so I can connect later" box.

Enter your SMUMN user name and password for the SMUMN domain. Type SMUMN in the Domain field.




Then click Cancel

Go back to Network and Sharing Center

Click "Change adapter settings"






Click SMU VPN

Right Click on it; and scroll to Properties.

Click Secuirty Tab ----- First drop down - Type of VPN.

Change to Point to Point Tunneling Protocol (PPTP)

Change the Data encryption to "Require encryption (disconnect if server declines)"

Check "Allow these protocols" and check "Challenge Handshake Authentication Protocol (CHAP)" and "Microsoft CHAP Version 2 (MS-CHAP v2)"

Click OK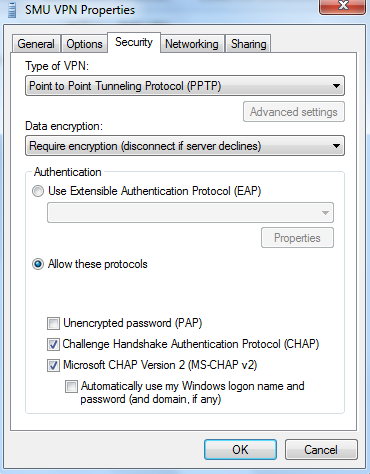 After you are connected to the VPN you will need to Map the appropriate network drives.
As an example, below are the directions to map your personal network storage, U: drive.
To map to another drive you would replace the name of the server such as morpheus and the folder name where neo and your username would go. \\morpheus\departmental folder for example. Make sure you change the drive letter as well.
Step 1:
Right click "Computer" Click Map network drive
Step 2:
In the drop down Drive menu select U: and in the folder field enter \\neo.smumn.edu\username$ (replace Username with your Saint Mary's Username, but keep the $ sign. Make sure the Reconnect at logon is checked, if you wish to reconnect without doing these steps again later.

Twin Cities users should replace neo.smumn.edu with kessel.smumn.edu.

Step 3:
Check the box indicating that you will "Connect using different credentials. Click Finish.

Step 4:
When prompted for you username and password, type "smumn\username", again SMU username, in the username field and your password in password field. click OK

You should now be able to view your personal network space files. Please keep in mind it likely will be best to save the file you wish to work on to your computer, edit it, save it and then copy it back to your network drive location. It would be a performance improvement versus working on the file directly off the network file server.