Directions submitted by: Chris Froelich
This Techfaq document is for SMU users that wish to copy their existing email from OL Interchange to GoogleApps. You may use these directions only after your new email has started to be delivered to the GoogleApps system.
If you only have a few messages that you want to move you could simply forward them to yourself. For a larger number of emails you can use the directions below to manually copy your messages from Office-Logic Interchange to GoogleApps.
NOTE: The steps below will copy into your GoogleApps INBOX, you will need to relabel messages after they have been copied.
Step 1: Log in to Google Apps at webmail.smumn.edu with your username & password.
Step 2: Click on the gear at the top right of the page
←
Step 3: Select Mail Settings from the drop down menu
Step 4: Under settings, click Accounts, than Click"add a POP3 mail account you own" under "Check mail using Pop3". ↓

Step 5: Enter your username@mail.smumn.edu, then click next The username should be your login name for OL Interchange.
Step 6: Type in your password for OL Interchange Webmail, Check the box indicating you want to leave a copy of retrieved messages on server. (You may also choose to label these incoming messages before importing). Then Click Add Account.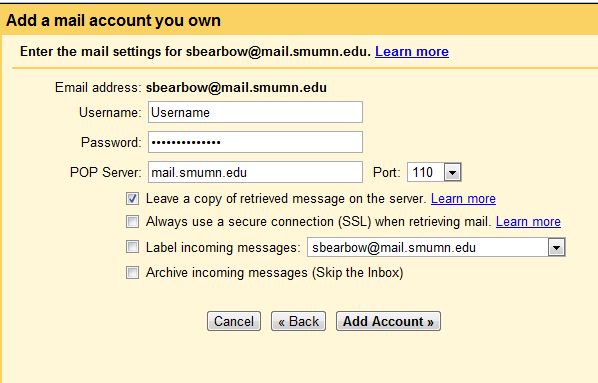 Step 7: Set the "Send Mail as Account" answer to "No"

Step 8: Log in to Office Logic email at mail.smumn.edu with your username and password.
Step 9: Select any emails that you want moved to Google Apps , then click on file.
Step 10: Then, Select in the folder drop down menu "inbox" then click "select"
Step 11: You'll need to repeat steps 8 & 9 for each folder you have under Personal in Office-Logic Interchange.
Step 12: Once all of the messages you wish to save have been moved to your "inbox" on OfficeLogic, Google Apps will automatically recognize that there are new emails in your inbox and will automatically move them to Gmail. This may take an overnight period for all the messages to copy over. Once they are in Google Apps, you can reorganize those messages using labels.
Step 13: When you've completed your email migration, click on Mail Settings in GoogleApps and remove the account you set up in Step 4 by clicking Delete next to the account.