Smart Views in Grade Center
Smart Views are shortcut to viewing select content in Grade Center. The examples below will help you view a single student in Grade Center which is helpful when holding office hours. Also how to view Grade Center for one section of a merged course (two sections that are put together for easier management in Blackboard).
Setting up a Smart View:
STEP 1: Access Grade Center from within the desired Blackboard course.
STEP 2: Select "Manage" to display menu options.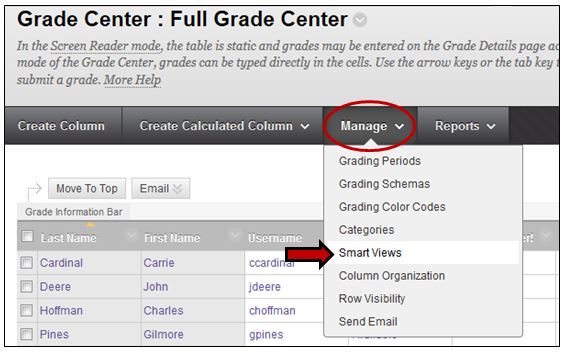 Create the Desired Smart View: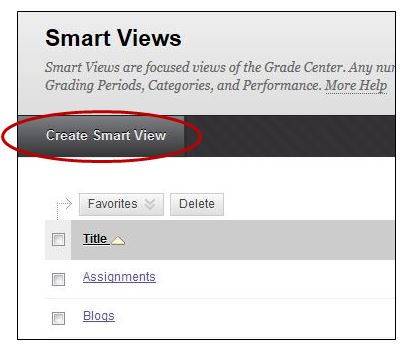 STEP 3: Name the Smart View and check the "Add as Favorite" box.
STEP 4: Select the criteria for this Smart View. "Type of View" allows you to select options.
NOTE:
"Course Group" should be selected if the goal is to view each section independently in Grade Center. A group will need to be created first which contains the select students from each section.

STEP 5: Select the title of the primary section (example: Section A or Group 1) for the course and click "Submit". This action needs to be repeated but this time select the other section of the course (example: Section B or Group 2). Then click "Submit" to apply the changes to your course.
Scroll to the bottom of this image for "User" instructions!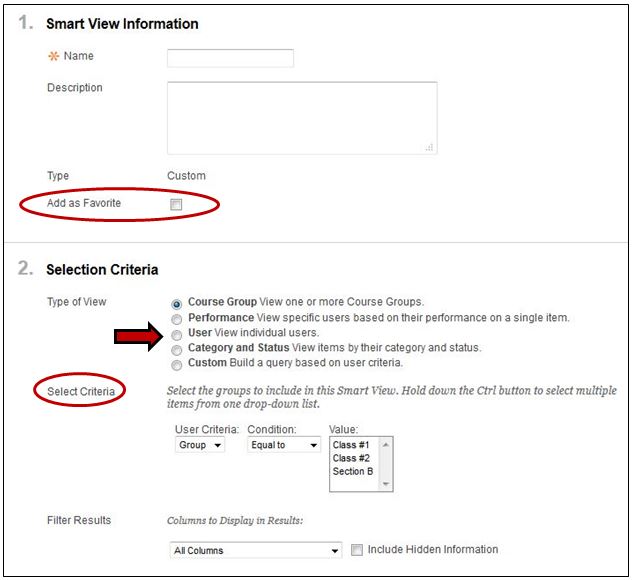 OR
"User" should be selected if you want to display only one students information at a time. However, setting up a "fake student" in the course as a
STEP 5: Select the "fake student" from the list of users. This way that student is the default view and will not display other students grade information when meeting with students (this is a legal concern regarding FERPA). Click "Submit" to apply the changes to your course.
STEP 6: When accessing the Control Panel Grade Center area you should now see options that look like this.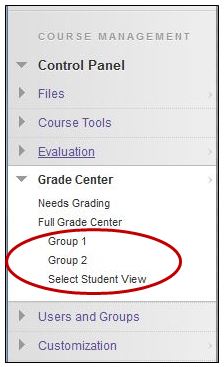 NOTE: When meeting with students you can:
Click on "Select Student View"

Click on "Manage"

Select "Smart Views"

Edit the "Select Student View" to pick the student you are meeting with.
This is a few more clicks but it will prevent sharing Grade Center information about other students when you meet to dicuss a grade related student.