How do I confirm that uploading an assignment worked?
STEP 1: After uploading your assignment in the appropriate Blackboard course, you will receive a confirmation when the screen refreshes (after clicking the Submit button).


STEP 2: An alternate way to confirm your assignment was submitted correctly is to check "My Grades" in the course.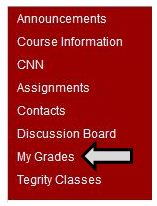 STEP 3: In the "My Grades" area you can scroll down the list of assignments for the course and find the title of the assignment that you just submitted content into. The green box with an "!" in the center indicated that the submitted assignment is in need of grading by the instructor. Clicking on the green box with the "!" will allow you to access the actual assignment that was submitted.



STEP 4: Looking at the assignment that was submitted (see image below) allows you to click on the assignment file name, which will then download and open the assignment that was submitted, in case you would like to confirm which file was uploaded. In addition, once the grading has taken place you will also be able to access other documents the instructor has sent back to you (example: assignment paper with comments and suggestions).