How do I authenticate and finish configuring my Blackboard profile?
At a Glance:
When you first log into the updated Blackboard system you will notice a prompt urging you to setup a profile.  Please take a few minutes to walk through this process.  The profile will help students connect with faculty while supporting the inclusive and relational elements which aid in building community and supporting the mission of Saint Mary's University (SMUMN). 
Profile Configuration Quick Hit Video Tutorial (2:46):
https://www.youtube.com/watch?v=LuUTg9LSGG4
Overview: User profiles are automatically created for users with the default privacy setting set to Private. This setting can be changed by the user. User profiles are stored in cloud. Users cannot delete a profile.  Profile cards show a summary of a user's profile. Profile Cards appear in the discussion board, wikis, blogs, roster, page header, and People tool.
Step-by-Step Instructions:
STEP 1:  After logging into Blackboard, you will be greeted with a screen similar to the one shown below.  Click on "Create My Profile" which is listed as item 2 on the welcome screen.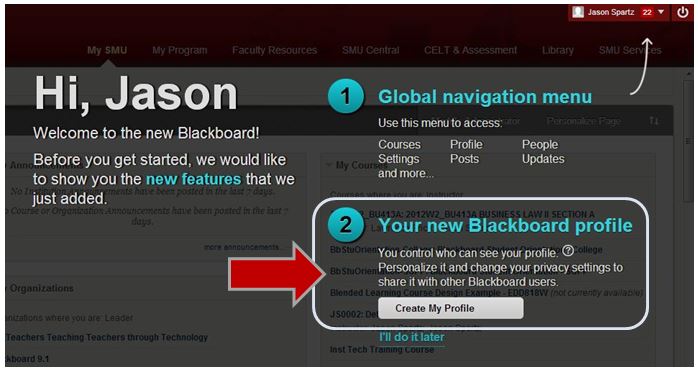 STEP 2:  Connect your Blackboard Profile with your SMUMN email address by typing in the email address in the desired box as indicated in the image below.  Then click "Submit" to move on to the next step.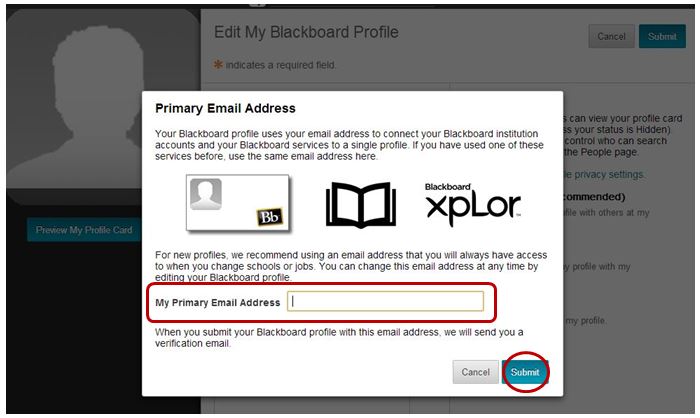 STEP 3:  Locate the verification code which was sent to you via email.  Copy and paste the verification code and click "OK" to connect the profile. 

STEP 4:  Configure the profile by (1) uploading a photo of yourself, (2) adding your name, and (3) selecting "My Institution" for the privacy setting. Click "Submit" to apply the changes to Blackboard.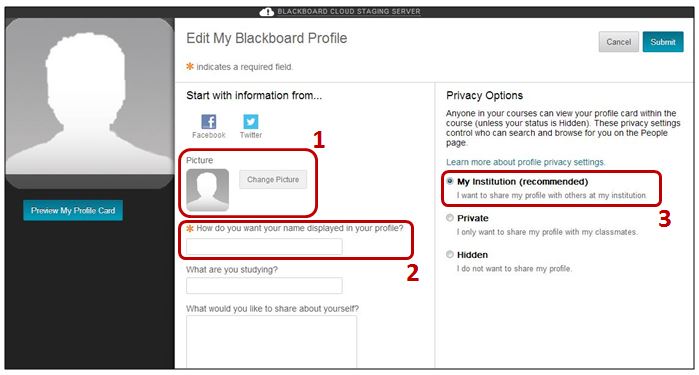 Additional Resource:  https://help.blackboard.com/en-us/Learn/9.1_SP_10_and_SP_11/Administrator/150_User_Management/User_Profiles