Managing Multiple Email Accounts
Having too many email accounts can be overwhelming. There are multiple ways to condense and organize your email accounts. 
Option 1: Multiple Sign-In - BEST OPTION FOR SECURITY
You could use this option if you are using multiple Google Accounts. 
Option 2: Forwarding Emails to another account (not recommended)
Use this option if you would like to forward one Gmail account to another email address. 

This option is NOT recommended if you need to send messages back from the forwarded account. 
Option 3: Use Mail Fetcher
Use this option to receive AND send emails from multiple accounts in Gmail. 

Sending Emails from different accounts within Gmail

**Note - You will need to turn on "

Allow Less Secure Apps

" in your SMUMN Google Account Settings. 

Go to Settings >Accounts and Forwarding

Click on "Add another email address you own"

Enter your SMUMN Email Address

Enter smtp.gmail.com

Enter your FULL email address

Enter your password

Leave the other settings as-is.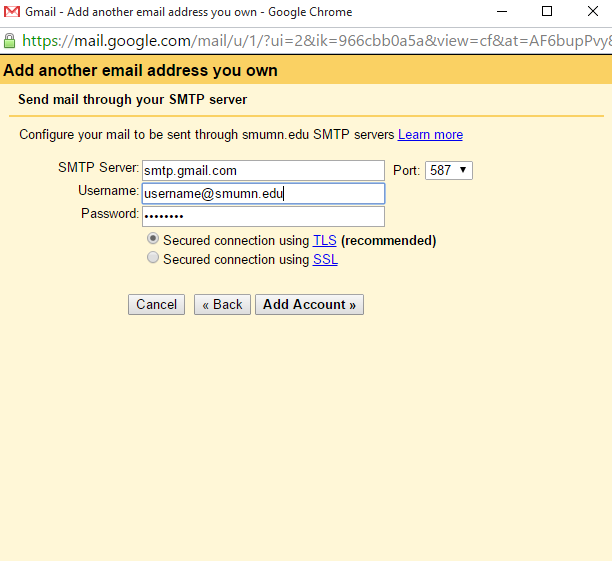 Then check your SMUMN Email for the verification link and either click the link or enter the code.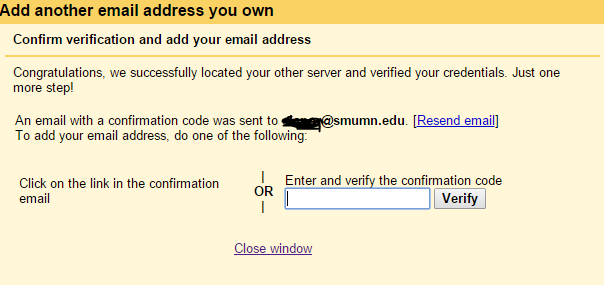 You will now be able to send from your SMUMN Account in your personal Gmail Account. 
Option 4: Adding a Gmail account to another email program (Outlook) (not recommended)
Use this option if you wish to receive your Gmail account messages in a program like Microsoft Outlook. 

To set up your Gmail in Outlook or other mail software on your computer you will need to first enable IMAP Access in your Gmail Settings. Then you will have to configure your email client (e.g. Outlook). There are Configuration instructions 

here

.