STEP 1. If this is your first time, click here to download the SMUMN Printing and Network Folder login application and follow the onscreen instructions.

*Note: You will periodically have to re-log in through this icon to print in the future.

STEP 2. Open Control Panel and chose "Printers", then click "Add a Printer".

STEP 3. Chose add a network, wireless or Bluetooth printer.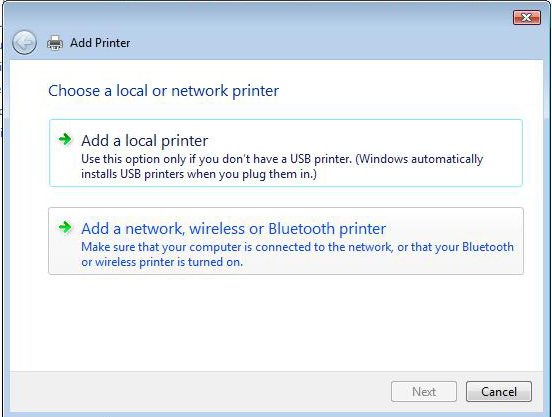 STEP 4. Chose The printer that I want isn't listed, and press next.

STEP 5. Select a shared printer by name. Enter \\oberon\(reshall printer name her). See list below for ResHall printer names. EKPOD is "Old Village"
Click Next.

| | |
| --- | --- |
| Printer Names: |   |
| Benilde | Eds, EKPOD |
| Gilmore | Heffron2, Heffron3, Heffron4 |
| Hillside | Joes |
| LaSalle | Pines |
| Skemp1, Skemp2, Skemp3 | Vlazny |
| Watters | Yons |
STEP 6. Press Install driver, then next and finish.
 STEP 7. The printer should now be added. To print later you must repeat step 1.
Please note: this is the same process if you are going to use another SMUMN printer, such as in the Library, Toner pod, or Hendrickson Center Lower level (hchall).