Hiding a user in your Blackboard course does not prevent that person from receiving course communications. If a student has dropped the course you can change the users setting to be unavailable in that course. This will prevent Blackboard course email from being sent to the student who is no longer participating in the course.
STEP 1: Log into your Blackboard course and access the Control Panel area (lower right hand corner of the screen). Access "Users and Groups" in the Control Panel area and select "Users".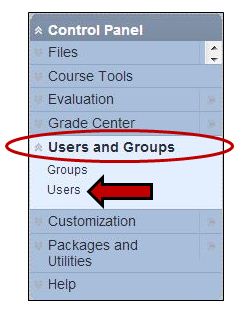 STEP 2: Click the contextual menu icon and select "Change User's Availability in Course".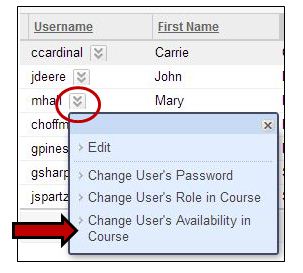 STEP 3: Under Role and Availability, change the Available (this course only) to display "No" and then click "Submit".

STEP 4: To clean up your course a little more, you can hide the student's names in Grade Center. Please refer to this TechFAQ article for guidance with that process. /index.php?action=artikel&cat=3&id=239&artlang=en&highlight=hide