Are you interested in more student feedback from your lectures or other Tegrity content? Consider having students use the bookmark feature that is built into Tegrity. Students can flag important points as well as areas that they find unclear in a recording. The student bookmarks can be used as future reference. Instructors can also create bookmarks that are available to be seen by all students while playing back a recording.
NOTE: Each student's bookmarks are only available to that student and the instructor(s) enrolled in that Blackboard course.
Adding a Bookmark:
STEP 1: Pause the recording where you would like to create a bookmark. NOTE: For easy reference on playback, place the bookmark at the start of the point you wish to reference. This will start the playback at an appropriate spot to review later.
STEP 2: Select the "Unclear ?" or the "Important !" symbol from the drop down list (downward pointing triangle) to select the appropriate bookmark reference.
STEP 3: Type an appropriate note describing your bookmark for easy reference later and click the "Add" button to submit your bookmark into the Bookmarks and Notes section for the recording.
NOTE: Email or tweet your instructor or classmates a specific bookmark. This is done by selecting the Twitter icon or envelope icon that is displayed when you hold the mouse over the desired bookmark. To delete a bookmark, select the red box with the "x" in the middle.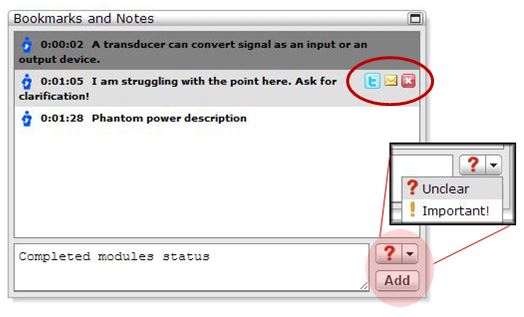 The bookmarks will appear in the timeline for a visual reference (see image below).
Red dots indicate an "Unclear" which is also displayed as the red question mark (?) when adding a bookmark.
Yellow dots indicate an "Important!" bookmark which is also displayed as an exclamation point (!) when adding a bookmark.
Blue dots are bookmarked items that have been put into the timeline by the instructor. This could be website links or specific notes related to the presentation.

Tags: bookmark, important, Notes, questions, tags, unclear