Click the following link to view a short video to help you setup a safe assignment in Blackboard... Using SafeAssign
How to Use SafeAssign in Your Assignments
You can now use SafeAssign plagiarism checking for any of your assignments.
On the Create Assignment page, expand Submission Details.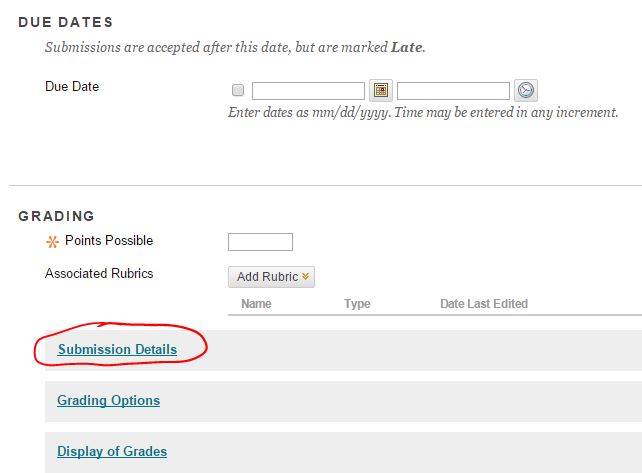 Select Check submissions for plagiarism using SafeAssign.
Optionally, select one or both options:

Allow students to view the SafeAssign originality reports on their submissions.
Exclude all student submissions for this assignment from the institutional or global reference databases.

Complete the Create Assignment page.
Click Submit.
Supported file types include:  DOCX, DOC, PPT, PPTX, PDF, TXT, ODT, RTF, HTML, and HTM. Spreadsheet files are not supported. 
**SafeAssign does not work well in Safari.
We generally suggest using firefox or chrome instead.  If you want to continue using Safari, try these steps:
Follow these steps to allow the Safari browser (5.1 and higher) to accept cookies.
With the Safari browser open, go up to the Finder bar and select "Safari."
Select the Preferences option from the drop down menu.
Select the Privacy tab.
Set "Block Cookies" to Never.
Close the Preference window.
How Does it Work?
SafeAssign can be used in two ways. 
Instructors can set up SafeAssignments in their Blackboard courses and let students submit papers to these assignments, in a way very similar to the one provided currently by Blackboard Learning System.  As students submit papers, they are checked against SafeAssign's comprehensive databases of source material.  The papers will then be delivered to instructors through the Blackboard Learning System together with the originality reports, with the results of the matching process, attached to them.  >>More on Creating SafeAssignments
Instructors may upload papers directly with the Direct Submit feature, without student involvement.  >>More on Direct Submit
Matching Process
SafeAssign checks all submitted papers against the following databases:
Internet - comprehensive index of documents available for public access on the Internet
ProQuest ABI/Inform database with over 1,100 publication titles and about 2.6 million articles from '90s to present time, updated weekly (exclusive access)
Institutional document archives containing all papers submitted to SafeAssign by users in their respective institutions
Global Reference Database containing papers that were volunteered by students from Blackboard client institutions to help prevent cross-institutional plagiarism.
SafeAssign Originality Report
SafeAssign generates an Originality Report with the results of the Matching process.
>>How to Interpret SafeAssign Reports
How to find the results of a SafeAssign Assignment in Blackboard.
Accessing a SafeAssign Assignment