How can I drag and drop files into Blackboard?
Blackboard provides a very easy way to upload many files at once to your course or organization.

Step 1: Once in the course or organization as an instructor, locate the control panel. Expand course files, and then click the name of the course.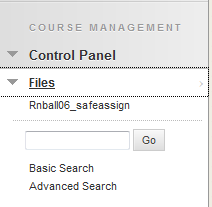 Step 2: Press "Set Up Web Folder" and follow the on screen directions to map the course files folder to a network drive or mount point on your computer.

Step 3: You will either find the shortcut to the file on your desktop on Apple OSX or inside of Computer on Windows. You can open this folder and copy any files into it, which will automatically upload them into your Blackboard course or organization.