Inline Assignment Grading
At a Glance:
Blackboard Learn eliminates the need to download files, so you never have to leave Blackboard. Simply review submitted assignments in your web browser, where you can view the document just as it was submitted – original formatting preserved.
Using the new grading sidebar design and bringing it to all the other tools which support inline grading (Blogs, Journals, Wikis, and Discussion Boards). This creates a more consistent and user-friendly grading experience for you.
Inline Grading Quick Hit Video Tutorial (1:53): https://www.youtube.com/watch?v=3X9Rerz0VX0
Overview:
Inline Assignment Grading is an improvement to the workflow for grading Assignments in Blackboard Learn. Instead of requiring instructors to download student-submitted files to view or edit those submissions, instructors will now be able to view student-submitted files "inline," i.e. in the web browser (Firefox, Chrome, Safari, and Internet Explorer).
Supported document types that can be converted are Word (.doc, .docx), PowerPoint (.ppt, .pptx), Excel (.xls, .xlsx), and PDF (.pdf) documents. Formatting and embedded images of the original document are preserved in the conversion.
Step-by-Step Instructions:
Key features to enhance inline grading are identified in the image below along with additional information for each feature.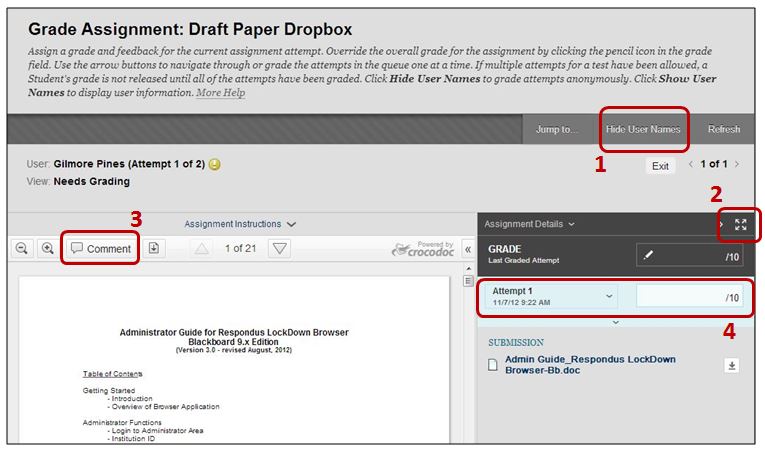 (1) Hide User Names allows the instructor to grade assignments anonymously.
(2) Maximize/restore view for full screen viewing of the document.
(3) Comment: Click on the Comment button to access the Comment, Draw, Highlight, Strikeout functions as seen below.

(4) Grade Attempt with Feedback: Click on pencil tool to expand the window allowing the instructor to include additional feedback for the student regarding the assignment.