Adding external multimedia content or digital video recordings made with another system can happen through a simple "upload class capability" that lets you easily import content into the Tegrity system. Once it has been imported it will appear as a class within your course and can be named appropriately.
STEP 1: Access the desired Tegrity course through Blackboard or navigate to your private course area (the location where you would like the video content to be stored). Select "Course Tasks" menu in the left side of the screen (see image below).

STEP 2: From the Actions menu, select either "Upload Video as Class", or "Upload Audio as Class".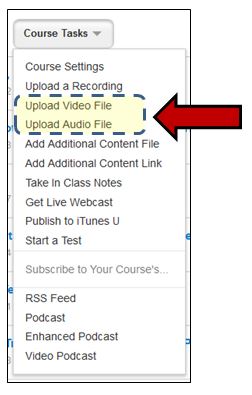 STEP 3: A new window will appear. This is where you verify the course you would like the recording to be placed into.
VIDEO FILE: You can give the recording a specific title (the default title is the date and time). Next you will "Browse" your computer to find the digital video file you wish to upload. Then click "Upload Video".
-- A suggested best practice for facutly might be to upload the content into your Private Course (as seen in the image below). Then you can copy the recording into other courses as needed.

When uploading existing video content, Tegrity supports the following video file formats:
Flash Video Files (*.flv)

Movie Files (*.mpeg, *.mpg)

MP4 Files (*.mp4,*.m4v,*.mp4v,*.3gp,*.3gpp)

QuickTime Movie Files (*.mov)

Windows Media Files (*.asf,*.wmv)

Windows Video Files (*.avi)
Video files edited into recordings must be in .asf format.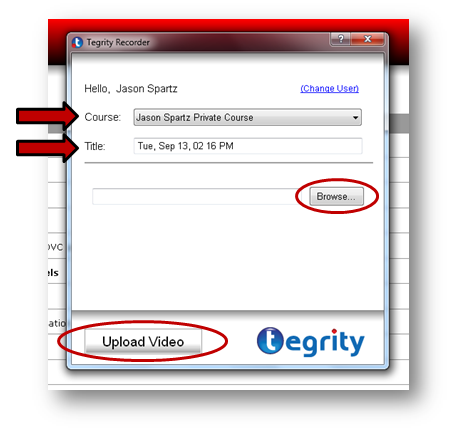 AUDIO FILE: The title of the recording file will be the title once uploaded. When uploading existing audio files Tegrity supports MP3 and WMA audio file formats.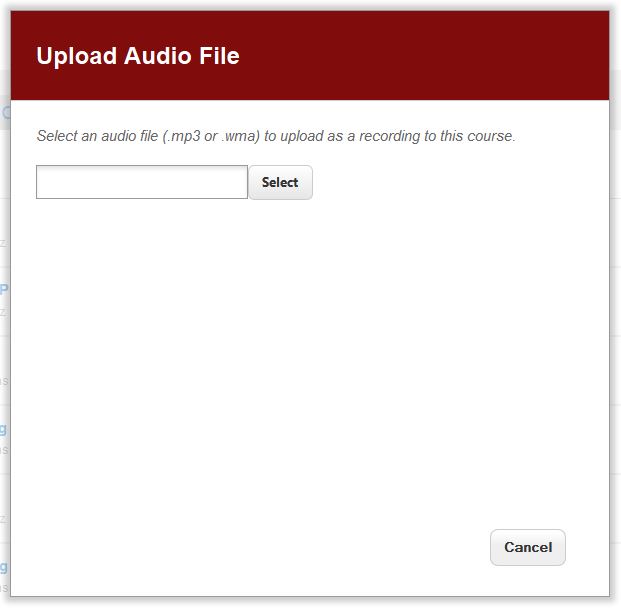 Tags: upload file