At a Glance:
Tegrity does allow for live streaming in addition to playback of recorded lectures on-demand. The instructor can enable this feature for the ability to webcast a class live simply by clicking the "Webcast" checkbox prior to initiating a recording.
Overview:
Webcasting allows participants in remote locations to view and hear a session as it takes place. Participants are able to log into Blackboard and view the list of Tegrity sessions. "Live Webcast" will be displayed on the appropriate session allowing participants to click on the session and participant in the live stream. Audio and the content on the presenter/instructor computer screen are the items shared to remote viewers of a webcast.
Step-by-step instructions:
Follow the steps below to enable a course for Tegrity Webcasting.
STEP 1: Access the course which needs webcasting enabled.
STEP 2: Select "Course Settings" from the Course Task menu.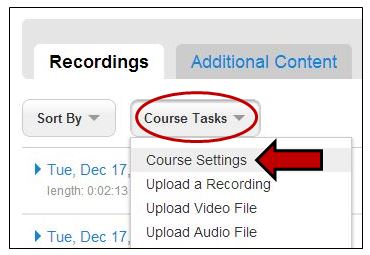 STEP 3: Check the "Enable Webcast" box.
STEP 4: Click "OK" to apply the changes to the course.