You can access quick notes from the Send to OneNote Tool or by choosing Quick Notes from the notebook drop-down list in OneNote 2013. If you do the latter, you won't see the Pages tab; instead the note will open in the regular OneNote 2013 interface

Following are the items you see on the tab; the first three are in the Navigate section, and the latter three are in the Pages section:
Previous Page: From the one that's currently displayed, go to the previous quick note.

Next Page: From the one that you're currently viewing, go to the next quick note.

Search: Search notes — not just quick notes.

New Page: Create a new quick note page.

Delete Page: Delete the currently open quick note page.

Move Page: Move the currently open quick note page.
How to create a quick note in OneNote
You have two options for creating a new quick note:
Open the Send to OneNote Tool and click or tap the New Quick Note button (or press N).

Choose New Page while viewing the Pages tab with a quick note currently open after having started a previous new quick note.
Whichever option you choose, a new note opens.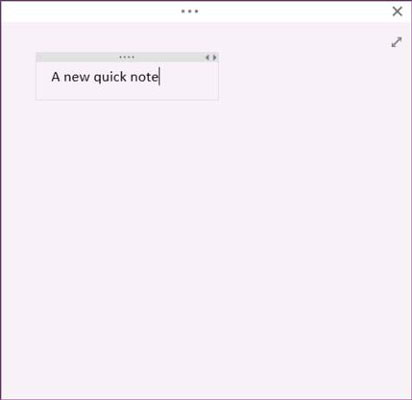 By default, quick notes have a simple interface with the following items not typical of regular note:
A lavender background

No title or date

A row of buttons on the top row that you can click or tap to access the Ribbon

A double-arrow icon in the upper right that you can choose to view the note in the full OneNote 2013 interface
You can take notes just as you do with any other note. Essentially, you're looking at the same options, just with a simplified interface and organized under the Quick Notes section of your Personal (web) folder rather than within the greater OneNote structure.