Blackboard Enhancements 2015
The January 2015 Blackboard system update has brought a number of faculty friendly enhancements that will strengthen the purpose and use of technology in your courses and organizations.  Below you will find a list of links to help explore the new features and funtionality.  Please contact an instructional technology representative if you have questions or are interested in an overview workshop of Blackboard. 
Course Merge
Merging separate course sections into a common course provides ease of management for faculty.  New processes have been implemented providing fewer technical challenges during the semester. 
Please contact the HelpDesk to request merging courses as it now requires a Blackboard system administrator to complete the task.  When contacting the HelpDesk, include the course ID (example: 2016W1_ABC101A) of the sections you would like merged together.  Also identify the desired parent section.  If you are not sure what information to provide, please call x7800 and a support associate will help to gather the required information.  
Date Management
In this Quick Hit Video, see the new Date Management tool in Blackboard Learn that allows instructors to have the system automatically "shift" content and tool dates in a course in a highly efficient way.
The Date Management tool allows faculty to have the system automatically "shift" content and tool dates in a course after performing a course copy. After the faculty member specifies a start date for the new course, Blackboard will automatically adjust due dates, availability dates, and adaptive release dates, to the new semester and follow the same pattern as used in the previous course. This greatly streamlines the process of moving courses from semester to semester or year to year.
Blackboard will send faculty an email when the process is finished. After the shift, faculty can see all of the dates in one place to validate and tweak dates. Changes can be made to individual items or several dates can be changed at the same time.
Student Preview
A commonly requested enhancement! Faculty will be able to interact with the course as if you were a student, including taking quizzes/tests, submitting assignments, posting to discussions, etc. Watch this Quick Hit Video introduction.  

More information and details on managing the student preview account can be found on this Blackboard resource page. 
Integrated SafeAssign 
SafeAssign will be integrated with the Assignment creation and grading workflow, allowing you to use embedded feedback tools and rubrics. Watch this Quick Hit Video introduction.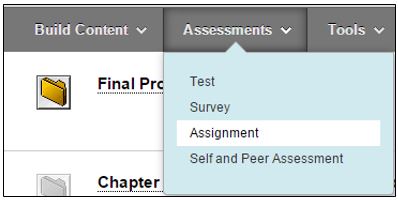 SafeAssign is a tool used to prevent plagiarism and to create opportunities to help students identify how to properly attribute sources rather than paraphrase. SafeAssign is effective as both a deterrent and an educational tool.  https://help.blackboard.com/en-us/Learn/9.1_SP_10_and_SP_11/Student/060_Tests_and_Assignments/About_SafeAssign
SafeAssign compares submitted assignments against a set of sources to identify areas of overlap between the submitted assignment and existing works.  Using SafeAssign with Assignments: https://help.blackboard.com/en-us/Learn/9.1_2014_04/Instructor/100_Assignments/025_Use_SafeAssign
SafeAssign produces an originality report for each submission which are color coded and available to the instructor and the student:  https://help.blackboard.com/en-us/Learn/Building_Blocks/SafeAssign/Student/SafeAssign_Originality_Reports
Students can access and view a SafeAssign report by following the steps identified in here:  https://help.blackboard.com/en-us/Learn/Building_Blocks/SafeAssign/Student/Access_SafeAssign_Student_April_2014_and_Beyond
Inline Grading View - Enhancements
There are two updates to the Inline Grading view. For Assignments, a new full screen view minimizes the side bar to make it easier to focus on commenting and annotating. Second, the side bar design that is already available for Assignments is now available for Blogs, Journals, Wikis, and Discussion Boards, which creates a more consistent and user-friendly grading experience.
Grading Improvements
Blackboard redesigned the My Grades page so students can sort and display their grades by what has been graded, what is upcoming, and what has been submitted, but is not yet graded.

When you create an assessment or assignment with multiple attempts, they can now specify how Blackboard should calculate the grades (e.g., use the last graded attempt, use the highest grade, average all attempts, etc.). Previously, you would have to edit the grade center column after creating the activity.

You can manually override the total points possible for a test while maintaining the integrity of the scoring.

Grading Schemas can now have values greater than 100%

Blackboard will also offer a mobile grading app, BbGrader, for iPad (iOS 7, iOS 8). Learn more by watching the introductory webinar.
Anonymous & Delegated Grading
Faculty may want to add another layer of fairness and impartiality to your grading, you can use the anonymous grading feature. Using grades and feedback from more than one grader via delegated grading helps to promote reliability and remove bias. These tools can be used together or separately. Watch this Bb video tutorial.
Test Access Log
A source of frustration for students, instructors, and test proctors is the inability to confirm whether students began a test or ran into problems during a test. Teachers and proctors have no way to verify student activity or lack of activity during a test. Students have no way to prove that they did begin a test and when. If students reported problems occurring during a test, they were either given the benefit of the doubt and the test was reset, or they were penalized for circumstances beyond their control. 
This video demonstrates the recent update which addresses this issue by providing information about student interactions with a test attempt. Instructors and other users who are granted permission can view the Access Log for a test from the Attempts page of the test.  Click on the following link for more information:  https://help.blackboard.com/en-us/Learn/9.1_SP_12_and_SP_13/Instructor/000_Product_Updates/SP13_New_Features/Test_Access_Log
Achievements for Competency Based Learning
You can use the achievements tool to create opportunities for students to earn recognition in the form of badges or certificates for certain work and other competency based learning. Watch this Quick Hit Video introduction.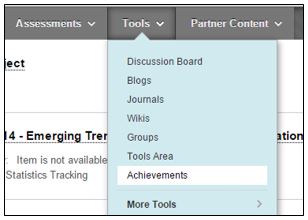 The Achievements tool makes it possible to add excitement and recognition to courses by offering badges and certificates for course progress. This new tool allows faculty and instructors to designate criteria for issuing rewards to students in the form of both Badges and Certificates. Students can see which rewards they have earned and what is required of students to receive additional rewards.  Gamification, certificates, and general achievements are a few of the potential uses of this tool.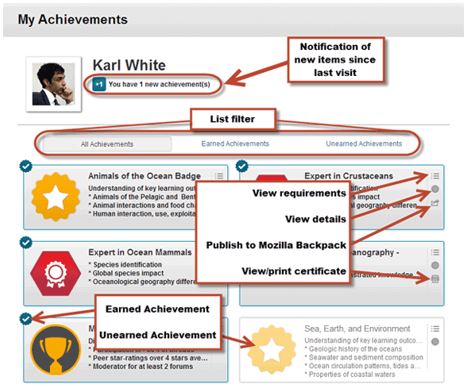 Furthermore, students have the option to publish badges to the Mozilla Open Backpack, which lets them display and promote their learning outside of Blackboard. Faculty can easily see which students have reached learning milestones.
Did you know these tools are available?
Enhanced Cloud Profile
Quick Hit Video https://www.youtube.com/watch?v=a3BbmX-idsM
Blackboard understands the value of portfolios and is highlighting the new enhanced cloud profile for Blackboard Learn. This profile process provides students with their first professional profile, helping them demonstrate skills and competencies they have developed through their educational journey in a visual and uniquely compelling way. 
Retention Center
Discover which students in your course are at risk. Based on preconfigured rules and rules you create, students' engagement and participation are visually displayed in the Retention Center, quickly alerting you to potential risk. You can communicate with struggling students and help them take immediate action for improvement. Watch this Quick Hit Video introduction.
Group Management
This update to Groups simplifies the process of creating and managing groups. Manage all course groups at once from the "All Groups" page, including deleting multiple groups at once, creating Grade Center Smart Views, and enabling or disabling Group Tools. Plus, on the Users page, group membership is now listed for each student.
Easily see which students are in which groups, including which students are not in any groups. Choose and manage membership for group sets, and create Grade Center smart views for one or more groups on the All Groups page. Watch this Quick Hit Video introduction.
Did you know about the available Blackboard apps?
Blackboard Mobile Learn
Bb Grader
Allows faculty to review, provide feedback, and ultimately grade submitted Blackboard Learn assignments.

iPad only

Version 1.0.1