Faculty: How do I use Snapverter?
If this is your first time using Snapverter, please make sure it is first set up in your Google Chrome browser. See article: "Faculty: How do I set up Snapverter?"
How to convert PDF and Image files using Snapverter:
Begin by navigating to drive.google.com
Upload the file(s) you wish to convert to Google Drive (directions here)
Then, click and drag the files you wish to convert to the "Drop Here to Convert" folder under "Snapverter"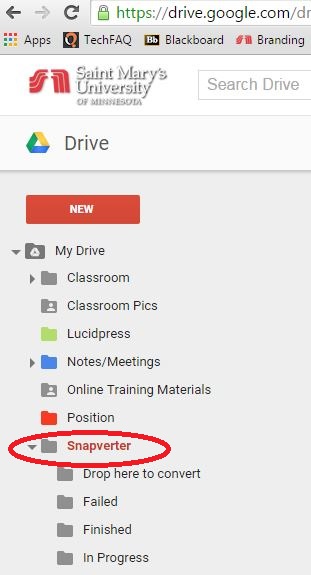 Snapverter will now begin the conversion process. Please be advised that this may take up to five minutes to complete, depending on the size of the file to be converted. 
Once finished, the converted file will be found in the "Finished" folder and can be shared with students via the "Share" button, or by creating a Share Link which can be posted on Canvas. Learn more about Sharing files in Google Drive here.