A Course Copy can make an exact copy of the Blackboard course. Course Copy can also make a copy of some of the materials and create a new Course or add the materials to an existing Course.
STEP 1: Log into the Blackboard course that contains the content you would like to move. Select "Packages and Utilities" from the Control Panel area (located in the lower right of the Blackboard course page). Next select "Course Copy" from the drop down list (see image below).
STEP 2: Select Copy Type should be "Copy Course Materials into an Existing Course". Copying Course Materials into an Existing Course will add content to a new Course, but it will not remove existing content.

STEP 3: Select "Browse" to find your Destination Course ID. This would be the new location for the course content.

STEP 4: Select the course material content areas that you would like to move into the new course. See "Behavior of Copied Materials" at the bottom of this page for more information about each section.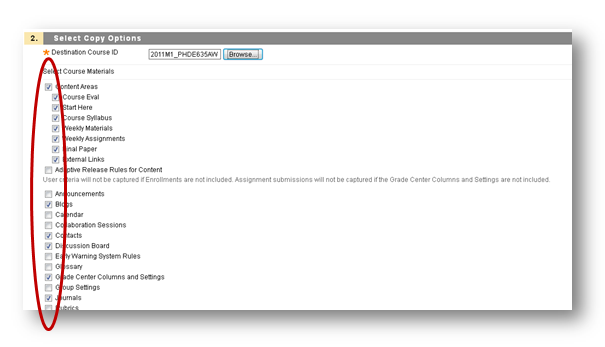 STEP 5: Select Package Size if your course content might be more than 500 MB (this is the default maximum storage space allowed for a course). Select Enrollments only if you want to move the student list into the new course. Most of the time you do NOT need to do this. If you do choose to combine or merge two course sections together, we suggest setting up a Smart View in Grade Center for quick viewing of the sections independently. View Merge Multiple Sections into a Master Course Site for more directions with this process.


Step 6: Click "Submit" so Blackboard can begin the course copy process.
Behavior of Copied Materials
Content: Course materials, including uploaded files, Learning Modules, and links are copied. Course Information, Course documents, Assignments and URLs are optional. Note: Assignments created inside Lesson Plans will not copy properly. Be sure to copy your assignments separately to ensure that everything is correct.

* When trying to copy Assignments, Grade Center Settings must be included in copy selections in order for assignments and other items with links to the Grade Center to copy properly.
Announcements: All Announcements are copied.
Tests, Surveys, and Pools: All Assessments and Surveys, including questions and options for deploying them are copied. All Pools are copied.
Calendar: All Calendar items are copied to the new Course.
Discussion Board: Discussion Board Forums, including the initial message in the forum, are copied.
Grade Center Items and Settings: Items in the Grade Center, and their settings, such as type, categories, and display options, are copied.
Group Settings: Settings include the names of the Groups, the settings for tool availability, and the Discussion Board Forum names.
Contacts: All Contacts are copied.
Course Settings: When Settings is selected, the following settings are copied:

Course Name

Course Description

Course Entry Point

Course Design

Course Banner

Blackboard Tools

Building Block Tools

Content Tools

Course ID

Course Availability

Guest Access

Observer Access

Course Duration

Enrollment Options
Links: Links to parts of a Course that are not included in the copy will break when the links appear in the destination Course. For example, if there is a link to a Test in a Course area and Assessments are not copied, the link to the test will break.
Course Cartridge Materials: The Course Cartridge Materials option is only successful if the source Course includes Copy Protected cartridge content and the destination Course does not have a Cartridge ID.
Content Areas: Content from Course Menu content areas that have the same name in each course will be added in the same content area. Nothing will be removed from the destination course and replaced with content from the source course.
Enrollments: If Enrollment is selected, the list of users in the Course will be copied. User records, such as discussion board posts, grades, and assessment attempts will not be copied. Note: User records are only copied if the Copy Course with Users (Exact Copy) option is selected.
Tags: combine, course copy, forward, materials, merge, move