At a Glance:
The Retention Center is an instructor-only tool that enables teachers to give focused attention to students who need it. It replaces the Early Warning System feature with easy workflows, while retaining all existing Early Warning System data and rules.
From the Retention Center, instructors can communicate with struggling students and help them take immediate action for improvement. Begin using the Retention Center features immediately—no setup required.
Retention Center Quick Hit Video Tutorial (1:44): https://www.youtube.com/watch?v=_bnSHI3qLik
Overview:
The Retention Center is a new feature for educators who use Blackboard Learn. It quickly alerts educators to potential risks and allows them to take immediate action. Easy-to-understand views and pre-configured rules make it simple to identify at-risk students within a course, and it requires no setup on the part of the instructor. However, instructors can also modify these rules to suit their individual teaching methodologies and approaches.
1) Helps instructors detect problem areas for students
2) Automatically triggers alerts to student engagement and performance risk
3) Presented in easy to access table with customizable rules
Step-by-Step Instructions:
Access to the retention center viewing all courses I through the navigation menu located at the upper right of the Blackboard screen by clicking on the user's name. From within a specific course instructors can access the retention center by selecting Retention Center from the Control Panel menu options as seen in the image below.
STEP 1: Access the Retention Center from a select course.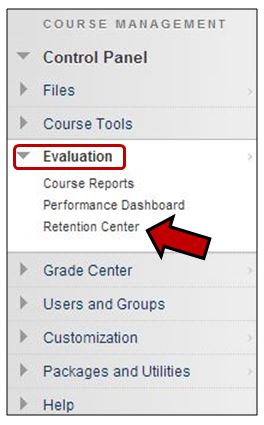 STEP 2: Customize Retention Center to change the default settings (if desired).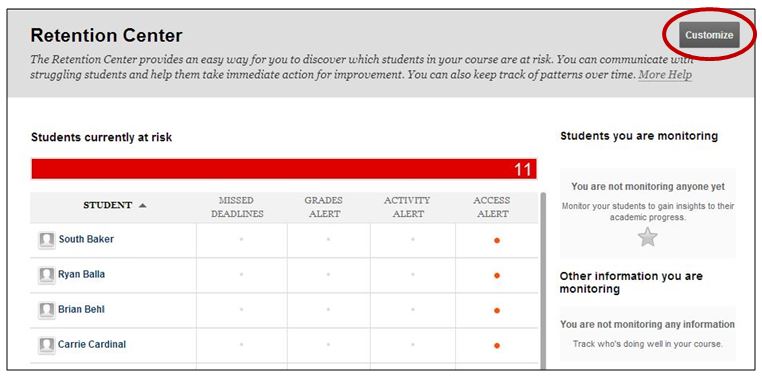 STEP 3: Create or edit rules in the courses Retention Center.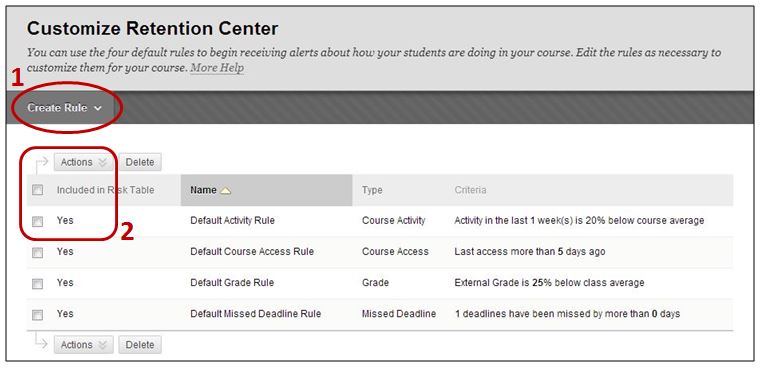 (1) Create Rule: Allows the instructor to develop specific rules in support of course activity, grades, course access, and missed deadlines.
(2) Actions: Allows the instructor to edit the action criteria in support of a rule. This could be to change the number of days or percent difference in monitoring a specific rule.